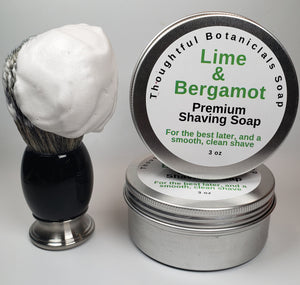 Thoughtful Botanicals Soap
Shave Soap
Regular price
$16.00
$0.00
Unit price
per
This rich, slick and thick lather shave soap comes in a round tin with a lid. It is scented with lime and bergamot essential oils, which is a fresh citrus scent. A reverent nod to the old time tradition of mug and brush shaving, this moisturizing shaving soap creates a rich lather to soften the beard for a smooth, close shave.
This soap is designed to prevent razor nicks and keep the skin soft and moisturized. You will not feel dryness after your shave as with most over-the-counter shaving soaps and creams. 
The addition of hemp oil, shea butter, glycerin and coconut oil leaves your skin feeling smooth and incredibly moisturized. It will not dry out or irritate your skin like many shaving soaps tend to do.  With a net weight of 3 ounces, this shave soap will last you 3 to 6 months, lasting longer than most larger shaving creams.
Completely safe for your skin, and free of toxins, parabens, sulfates, or synthetic chemicals. Thoughtful Botanicals Soaps only uses organic, non GMO oils and ingredients. 
To use, simply soak your bristle brush a few minutes in warm water, then wet the soap with the brush. Swirl in a repeating circular motion on the soap until you get the thickness and density of rich, foamy suds that you desire. 
This soap has long-lasting, dense suds that are very desirable for shaving. It is good for men's beards as well as lady's legs. Experience the most enjoyable shave.
Refills available
---
Share this Product
---